Luis Rosales - Francis: A Pope For Our Time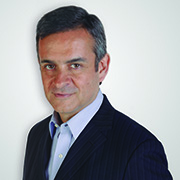 A politician by vocation and journalist and consultant as his profession, Luis Rosales was elected as the youngest State Representative in the Province of Mendoza, Argentina, in 1989. Two years later he was nominated as Secretary of Tourism, where he projected this activity as one of the most important source of revenues for the province. In 2000, he was nominated as Argentina Tourism Representative for the United States and Canada, based in New York City. One year later he was a candidate for governor in Mendoza, representing Compromiso Federal, a union of three local and national conservative parties.
He studied economics at the Universidad Nacional de Cuyo, in Mendoza, and received a master's degree in International Relations from Universidad de Belgrano in Buenos Aires and a Master of Arts degree from the Fletcher School of Law and Diplomacy in Boston, MA. He teaches Political Communication at the Jesuit Universidad del Salvador in Buenos Aires.
He is the Latin American partner of Dick Morris. Together they have worked in more than a dozen presidential campaigns around the region. Until the end of 2012, he was the president of Fundacion Universitaria del Rio de la Plata, a 40-year-old institution devoted to the promotion and formation of young leaders. He was the international news columnist in Canal 9 in Buenos Aires for four years and in the national cable news station C5N for other five years. He writes articles and columns in several newspapers, magazines, and online media from Argentina and abroad.
Rosales' previous publications include "El ponder. Como usario en beneficio de American Latina" with Dick Morris. Editorial Sudamericana, Buenos Aires, 2007; and "Otra Oportunidad. La Argentina en un Mundo Multipolar" Editorial Taeda, Buenos Aires, 2011.
Facebook: https://www.facebook.com/LuisRosalesARG
Twitter: https://twitter.com/LuisRosalesMDZ
Link to Book - Francis: A Pope for Our Time